Wellness centre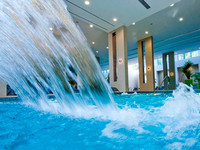 The modern spa is designed to offer a pool with the salt water for medical treatments
Wing "B" is reserved for a wellness centre and a polyclinic with a spa, offering space conveniently organised in different functional units, as well as rooms for physical therapy and salt spa treatments.
Tuzla's salt water has been recognised and appreciated for more than ten centuries, while the first medical analysis of this water was done in 1887, by a balneologist Ernesta Ludwig from Vienna, who looked at its composition, and found that it resembles a rare salt water from Reinchenhall. The second analysis was done by Lehu from Belgrade, and in 1961, the Public Health Institute from Sarajevo conducted a detailed analysis. Tuzla salt water was also used back in the days of the Ottoman Turks and Austro-Hungarians, as appears in some records, according to which Austro-Hungarian Emperor Franz Joseph was a patient of Slana banja (Salt Spa) in Tuzla.
The Uni Bristol Company restores centuries of tradition in salt water treatments, interrupted by the 1992 war in Bosnia and Herzegovina.
The modern spa is designed to offer a pool with the salt water for medical treatments, Olympic-size swimming pool, fitness and yoga rooms, gyms, sauna, massage centre, cafe restaurant, etc. health and recreational section of the Mellain complex will be equipped with the latest technology and medical equipment to provide the highest quality of medical treatments, rehabilitation and strengthening of health.