21. April. 2011.
The luxury complex Mellain: Unique building to make Tuzla proud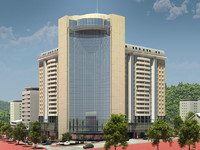 On the location of the former Bristol Hotel in Tuzla, a new luxurious residential and business centre Mellain is being built with a three-year investment of 150 million KM.
On the location of former Bristol Hotel in Tuzla, a new luxurious residential and business centre Mellain is being built with a three-year investment of 150 million KM.
The project engaged domestic construction companies, and once the complex is finished, it will create 250 to 300 new jobs. After demolition of the old Bristol Hotel, a symbol of the city on a grain of salt, construction works have been developing as planned.
Mr. Safet Bašić, General Manager of the Uni Bristol Company, the main investor in this project, explained to eKapija that the future building would be something unique in the region; a facility as no other that will include a wide range of activities.
"We are currently digging a pit of 13 metres in depth for a three-level underground garage for 400 vehicles. Until 20th June, we plan to hit the ground level, and continue with construction works", Bašić said.
The Mellain complex will include a five-star hotel with 20 floors and a space of 18,500 square metres, a residential area with about 300 apartments (28,000 square metres), a shopping mall and business premises. It will also include a polyclinic with a wellness centre, salt water spa and an Olympic pool for commercial use.
"The Bristol Hotel was famous for its salt water spa which attracted visitors from all over Europe. Once constructed, it will once again become a symbol of Tuzla and a distinguished hotel in the region. In addition, apartments and business premises will be built from high quality materials and according to world standards. It should be mentioned that there are only few buildings in the world with such diversity of offer", Bašić explained.
The intention of the investor is to hire domestic companies and ensure continuity of works. The main contractor is ŽGP, a company experienced in the most complex construction projects. Subcontractors are also from Bosnia and Herzegovina.
"This is a huge investment that will create many jobs. Thus, we decided to hire domestic companies, to prove we are able to handle such an ambitious project", Bašić pointed out.
As a reminder, the Bristol Hotel was a traditional meeting point of citizens of Tuzla and a centre of public life, culture and entertainment. It was built in 1908, and it was the biggest and the most luxurious hotel in Tuzla.
The owner of the three-floor hotel in Binertova Street was Mr. Pero Stokanović, a well known caterer and hotelier. However, due to movements of the ground caused by years of exploiting the salt water, the hotel was demolished in 1960, and a new one was built in the vicinity of the Tuzla Brewery.
Hotel "Bristol" and "Slana banja" medical centre changed owner in late 2008. Liquidation procedure ended, and Bristol was sold for 8 million and 400 thousand KM. The price hit the bar, having in mind the debts of the hotel.
Last year, the demolition works took place, and the construction of a modern building with several multi-purpose wings started. Residential and business complex Mellain is planned to be finished by the end of 2013.