13. April. 2012.
Mellain hotel complex in Tuzla: Uni Bristol invests 100 million Euros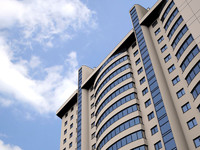 Construction works on "Mellain" centre, one of the most modern hotel complexes in BiH are underway as planned, despite the poor economy in BiH.
The complex will be built on the location of the former Bristol Hotel. Beside the construction site of Avaz-Robot Centre, it is a major investment in the city of salt of the last decade.
Duplex design
The Uni Bristol Company invests more than 100 million Euros in this project, with about 300 construction workers on the site. The construction involves numerous companies from Sarajevo, Tuzla, Zenica, Zavidovići, Kladanj and Živinice.
- The complex of 87,000 square metres is designed to offer 330 residential units, one to five rooms, in form of single-level and duplex units. Sizes of residential units vary from 52 to 158 square metres. The five-star hotel included in the complex offers 150 luxurious rooms on 20 floors, with a pool on the 19th floor. Beside the Avaz Twist Tower, this is the highest and most modern building in the region – said Safet Bašić, General Manager of the Uni Bristol Company.
Bašić: Opening planned for early 2014
The investor plans to finalise the works and open this cutting-edge complex in early 2014. In the design phase, special attention was given to construction of a polyclinic which is a part of the hotel planned to continue the tradition of spa treatments using salt water for which the former Bristol Hotel used to be famous.
Spa treatments
The spa is designed to combine medical polyclinic treatments, sports and recreational activities. In addition, it is planned to use thermal water sources of the Tuzla area – Bašić commented.
The Mellain complex will also create new jobs. It is foreseen that the new complex will employ 400 medical workers, catering professionals, as well as those engaged in sports, trade, etc.
High standards
This modern complex will also have three swimming pools, one Olympic-sized, and a three-level parking space. The complex is built according to high construction standards, with 14,000 cubic metres of concrete and around 1,200 tonnes of steel used in the foundation only.