10. April. 2012.
Construction works on the biggest and the most modern complex in BiH go as planned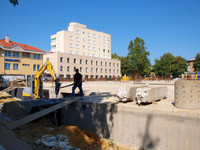 Due to high interest of potential buyers, the Uni Bristol Company started selling apartments planned to be built as a part of the Mellain Residential and Business Complex.
Construction works on the biggest, most modern and most expensive complex in BiH with the investment of about 150 million KM, go as planned. Due to high interest of potential buyers, the Uni Bristol Company started selling apartments planned to be built within the Mellain Residential and Business Complex.
The biggest and the most modern complex in BiH
According to the General Manager of the Uni Bristol Company, Mr. Safet Bašić, this is the biggest and the most modern building in Bosnia and Herzegovina, with the investment fund of about 150 million KM. The five-star Bristol Hotel that will include a swimming pool (18,500 m2), a polyclinic and a wellness centre offering a poll with salt water and a regular water pool (4,500 m2), 330 luxury apartments (28,000 m2), a shopping mall with business premises (8,200 m2), and a three-level garage (23,100 m2) are segments of the Mellain complex that is being built on the location of the former Bristol Hotel in Tuzla.
"Works are realised in line with the plan and design. Construction works should be finished by mid 2014. The fact that Tuzla has so many cranes in these difficult times of recession is a proof of great cooperation with the Municipality of Tuzla and the Mayor, Mr. Jasmin Imamović, who fully supports this project. Thanks to their approach to this project, we decided to do this in Tuzla, and that would not have been the case and if there had been any obstructions, we would have probably chosen a different location", Bašić explained.
Apartments for sale
The complex is designed to offer 300 luxurious residential units in two wings (lamela A and lamela C). These residential units will range from single-bedroom to five-room apartments (one level and duplex design), with accompanying infrastructure and facilities. The size will vary from 52 to 158 m2.
"Although we have planned to start selling apartments after finalisation of construction works, due to high interest of general population, we have decided to put the apartments on the market. Interested parties may contact us via telephone 278-273 and 278-274, or visit us directly at the premises of the Uni Bristol Company located across the street from the construction site, in the Jupiter building, on the third floor", Bašić said.
Five-star hotel
The Hotel will have 20 floors with 150 luxurious rooms, out of which 15 highly exclusive suits. The Bristol Hotel will also include a restaurant, a café, casino, luxurious reception desk, several conference rooms, a pool and a restaurant on the 19th floor. Infrastructure of the hotel will meet the requirements of a five-star hotel, with the management, auxiliary rooms, vertical communication, restaurant kitchen, laundry room, treasury, video surveillance and security personnel, etc.
Spa
The spa with thermal water will be located in the north wing (lamela B), it will have a separate entrance and will be able to function as an independent unit. It will include the ground floor, mezzanine and two floors. The design is made to offer future clients with premium medical treatments in the polyclinic, sports and recreation at wellness and fitness facilities, as well as sauna, whirlpool, etc. it is planned for the spa to use thermal water sources of the wide area of Tuzla. The spa will have two pools, one with salt water and the other, semi-Olympic, for recreational activities.
Business premises
Mezzanine and ground floor of the complex will have around 50 business premises of different sizes for sale, as well as a huge hypermarket with a storage room and auxiliary facilities.
Three-level underground garage
Three levels of underground garage provide space for about 400 passenger vehicles, for hotel guests, tenants and visitors. It will be the largest underground garage in BiH, with two entrance ramps.
Jobs for the locals
Construction of the complex is put in the hands of companies from BiH. "For construction activities, we have hired companies from Sarajevo, Zenica, and Tuzla Canton. In addition, once the complex is open, it will employ a large number of workers, hotel staff, catering professionals, medical workers, as well as those involved in sports, trade, etc." According to our estimates, around 300 jobs will be created"- Bašić pointed out.