17. Novembar. 2010.
Foundations laid for the residential and business complex Mellain on the remains of the former Bristol Hotel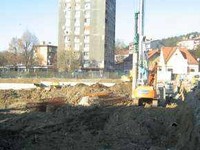 Once this complex is finished, Tuzla will get another shopping mall with business premises, with 8,200 square metres reserved for such purposes.
Demolition and removal of remains of the former Bristol Hotel has been finished by TOM CAT Company from Tuzla, in line with the schedule. The construction of one of the most modern buildings in BiH is underway. Weather conditions allowed the workers and their power tools to dig a huge underground space for foundations of this monumental building. The building will have 20 floors of 70,000 square metres in total. It will accommodate a modern five-star hotel, exclusive residential area, an underground garage and a modern spa.
The building is called Residential and business centre Mellain, and the investor is "UNI BRISTOL" company, quite unknown to the public. The hotel will occupy 18,000 square metres and it will be one of the biggest, most modern hotels, even outside the borders of Bosnia and Herzegovina. The complex will also include a polyclinic with a spa and wellness centre occupying 4,500 square metres.
- Spa facility will be a hit in a bull's eye since Tuzla salt spa has a century old tradition, and it was quite famous before the war. It also generated significant income, so the trend should continue once the Mellain residential and business centre is in place. We have the therapeutic salt water as a resource, and we are hoping the investor will know how to take full advantage of it. We believe the spa will attract patients from all over BiH, as well as from all former republics of Yugoslavia, in both summer and winter months, as it is the case with summer visitors of Pannonia Lakes – were the comments of the Tourist Board of Tuzla Canton.
The complex will offer 290 apartments in a residential area with 28,000 square metres reserved for such purposes. It is still early to discuss prices per square metre, since they will be greatly influenced by market conditions, in three and a half years, when construction works are planned to end.
Tuzla will get a new shopping mall with business premises area of 8,200 square metres. Let us also mention a 23,100 square metre garage with three underground levels. The complex should be finished by the end of 2013.